News
November 10, 2016
Attorney Potter appointed to PA Long-Term Care Council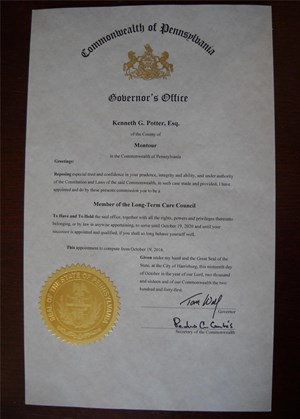 Local Attorney Ken Potter has been appointed to serve on the Pennsylvania Long-Term Care Council within the Pennsylvania Department of Aging.
Act 64, originally House Bill 753 sponsored by State Representative Lynda Schlegel Culver, establishes a Long-Term Care Council within the Department of Aging to serve in an advisory capacity to the Secretary of Aging. The Council consists of 35 members and will focus on six areas of concentration: regulatory review and access to quality care, community access and public education, long term care service models and delivery, work force, housing and behavioral health issues of seniors ages 60 and older.
"I am honored to have been chosen to serve on this new council," Potter said. A large part of my practice is devoted to the protection of seniors in my community, so I look forward to being able to serve in a larger capacity in protecting and helping the seniors of Pennsylvania with long term care issues."
Attorney Ken Potter has focused on elder law throughout his legal career at RHP Law Group LLC in Selinsgrove, Pennsylvania.