News
November 03, 2014
Fall Business Summit 2014
First Summit in Lewisburg is a Success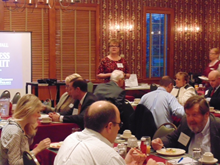 Fall Summit held in Lewisburg
LEWISBURG – The law firm of Rudnitsky Hackman & Potter LLP culminated its 40th year with a Business Summit on Thursday, October 23rd. The first time event was co-sponsored by Cornerstone Advisors of Allentown.
The presentations facilitated by the firm's Senior Partner, Karen L. Hackman, featured Mark Pulaski and Donna Wanamaker of Cornerstone Advisors and Michael Siegel of alliantgroup, a Washington, D.C. based firm that assists a wide range of business and industries across the country in the use and application of tax credits. Mr. Pulaski and Ms. Wanamaker spoke on the subject of nonqualified compensation and its application in employee retention.
Forty representatives from the Susquehanna Valley's business and industry community attended. Attorney Hackman advised the group in closing that there would be many such business summits in the years ahead, and encouraged participants to let her know of other subjects they would like to see addressed in future summits.